Here's how you can easily generate a report with all of your data in one place. This is a great tool for getting an overview of your company's progress.
Generating a report:
First, go to the Reports tab. Then, click Create Report.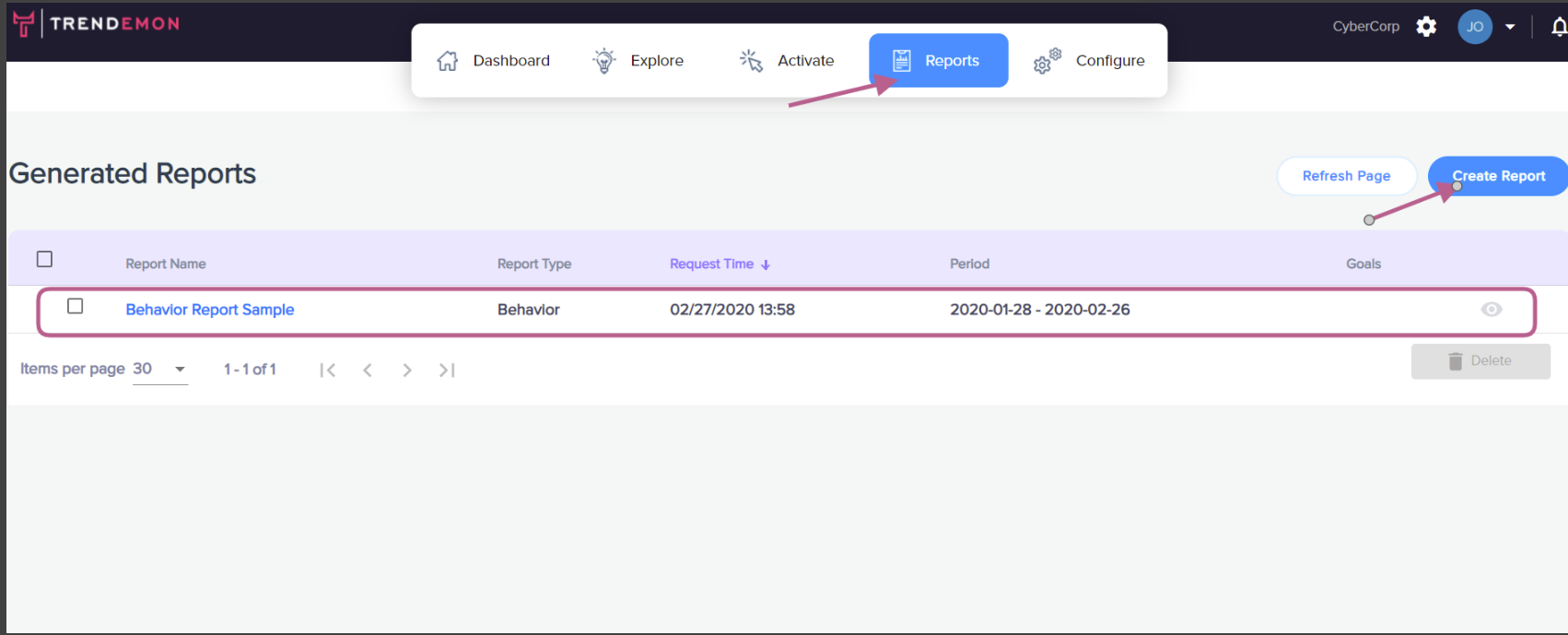 Select your desired Report Type and enter the Report Name.

Schedule Your Report:
Frequency box, choose the timeline for your data. Choose Once to retrieve data from a specific time period. Choose Recurring to consistently generate a report daily, weekly, or monthly.
If you selected Once, you will need to set a start and end date for your data in the format of (mm/dd/yyyy)-(mm/dd/yyyy)in the Period box. If you selected Recurring, you will need to specify how often you want to receive the report.
In the Send Email box, enter the email address you want a copy of the completed report to be sent to. Every report you generate will also appear on the Generate Reports screen.

You can select to filter the data you receive in your report, this can be done in Additional settings

Setup Audience Filter:
You can choose to leave this field blank or customize it to your needs.
If you want to look at the data for a specific goal, select a goal from the Any Goal dropdown. You can also specify a Preceding Goal.
Under Any Device, filter what type of device (computer, mobile, etc.) your customers accessed your content from under
In the Any Geography and Any Area boxes, specify where your viewers are coming from.
Lastly, in the Source box, you can filter how your visitors found your site. Select Referral to see how your visitors found your website or Campaign if you want to see the specific campaign they were directed from. You can also select Only First to filter all users who access your website the first time by the filtered campaign/referral. or Only last if they access through the filtered campaign/referral on their conversion session.
Once you have chosen all of your parameters, click Run.
It may take few minutes for the report to generate. (make sure you refresh the page using the refresh button on top of the page )
Each report includes:
Journey Header: User ID by time and the sequence of pages visited. (only headers.)
Journey Details: All details of the user journey.
Behavior.
Journey Length Distribution.
Conversion Rate by Content and Source: Goal achieved by content and the source it came from.
Conversion Rate by Area: Goals achieved by area.
Content Recommendation Impact Analysis: How many times a page was recommended vs how many times this page was clicked.
Campaign CTR by Page - How many times the specific campaign was clicked on each page.
ABM Report - Only available to our ABM customers.
ABM Company Alert - Only available to our ABM customers.